Lockdown persists. But one day we will sing together again!
Meanwhile, here are some opportunities for keeping our voices going in the virtual world
Start the Week with a Song!

A sing for fun session at 11am on Monday mornings, fortnightly.  
Thursday ZoomSing.

A bit like Mondays, but with rounds and basic part-singing added in. 
The Unscene Singers, a singing group for adults who are blind or visually impaired, meets on Monday afternoons.
If you would to join any of these, please email me on the contact form below 
Other options:
YouTube sessions you can do at any time:
• Join me on my new YouTube account  I post a mixture of songs on here, some are songs that I just like singing, others are 'teaching tracks' for easy part songs that are easy and quick to pick up (with minimal words), and other single songs that are definitely meant for you to join in!  There are also video 'sing for fun' sessions (about 30 minutes long, each with a warm-up and a selection of songs) - email me for links. 
•  The Stay at Home Choir This is a fabulous, now international, huge online choir, rehearsing and recording a wide range of lovely music. Go to their site to enrol and they will send more information by email. 
•  Gareth Malone's new project, the Great British Home Choir Join a cast of thousands! Click the link to enrol on the site and you will be sent more information.
•  'Duet Yourself'   Learn to sing familiar songs in harmony. Join in at scheduled rehearsal times or learn at anytime, a song at a time.  
• Distant Sing - from Choir Community. A mix of familiar songs from shanties to African songs to show stoppers - an opportunity to try something different!
• Nicola Mellon, a singer whose work includes directing choirs for better mental health, as well as working extensively in singing for people with Parkinson's, is running regular online sessions for the Mind and Soul choir that anyone can access  
• You could have a lot of fun with the Rogues Shanty Chorus from the UK's most easterly town (Lowestoft), who are live streaming on Facebook on Tuesdays from 7.30-9pm
• Or for something more gentle, check out Music in our Bones, who provide singing for wellbeing groups across Suffolk, who produce a monthly session on YouTube singing lovely but easy songs from across the world - their channel also includes short videos of the songs they sing in the sessions. 
• And Helen Hayes, another Suffolk community musician who works a lot with people with dementia, has a series of short sessions on her channel designed with care settings in mind - and also with learning the ukelele! 
• BBC Radio Suffolk have a cheery sing-a-long every weekday morning, at about 8.20am. Daily medicine: one song a day!
**************************************************************
Choir Leader, Singer, Vocal Coach, Accompanist
Based on the Suffolk/Essex border 
All groups are currently cancelled due to the Coronavirus.
In more normal times, this is what I do:
Sing&Go!: Singing for fun. No pressure, just a good sing! Well-known songs, sung from wordsheets. Weekly sessions in Stoke by Nayland, or stand-alone workshops - either for existing singing groups, or groups of people who just want to try something different! 
Solo Singer: Available for weddings, funerals, concerts and special events.  I sing classical favourites, folk songs, hymns, show songs - whatever is most suitable for the occasion. More information here.  
Teaching/Vocal Coach: I teach singing, piano and general musicianship for all ages. More information here.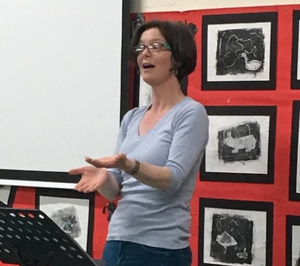 Schools: There are many ways I can help increase singing in your school by:
 Working with teachers directly together with pupils.
PD workshops for teachers to build confidence and give song ideas 
Prepare classes or choirs for special occasions
Lead or accompany choirs on a regular basis 
Contact me for more information.
 Accompanying I am an experienced repetiteur (choir accompanist) and exam accompanist and am available for regular or one-off bookings for: 
ABRSM/Trinity grade exams and aural tests to grade VIII
GCSE music performances
Choir rehearsals
Playing for weddings, funerals and other events.
Choirs: In addition to the groups I run myself, I also direct two choirs - Nayland Choir and Vocal Zones, a singing group for peeople who are visually impaired - the Unscene Singers. In October last year I started a new group for people with Parkinson's in the Colchester area.
Evaluations Outside music, I spent many years working in public health, and have an MSc in research for public policy and practice. I now undertake independent evaluations in healthcare, and have a developing interest in the field of arts and health. Contact me for more details of my experience or go to https://www.linkedin.com/in/emma-bishton/
Necessary things: I am a member of the ISM, have public liability insurance and a full (portable) DBS.
And a piano keyboard that I can bring with me! 
Why Sing? Well it's fun (or it should be)! 

And because singing connects us with ourselves, and with each other